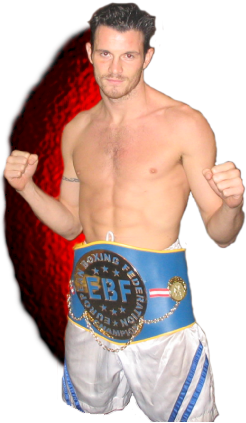 Name: FEDERICO
Surname: VELLA
DOB: 11/03/1978
Nation: ITALY
Style: K1 RULES, KICK BOXING
Height: 183 cm
Weight: 72,5 Kg
Gym:
MEJIROGYM MILANO
PROFIGHTING MILANO
KBK Vigevano
RECORD

96 MATCH
76 WIN
29 KO
14 LOST
6 DRAWS


TITLES
2003 FIKB KICK BOXING ITALIAN CHAMPION
2007 EBF KICK BOXING K1 RULES EUROPEAN CHAMPION
2009 WFC KICK BOXING K1 rules WORLD CHAMPION (30/05/2009)
2009 Kombat League KICK BOXING K1 rules WORLD CHAMPION (19/07/2009)
HYSTORY
Federico Vella fought in different specialities, like Boxing, Thai Boxing, Kick Boxing, K1, Full Contact and Savate
He started kickboxing on 1993 at the Fightingclub leaded by Master Roberto Cozzani.
After three years he begun to fight in the semi-professional class of kick boxing becoming:
1997 - North Italy champion of kick boxing (C class);
7 April 1999 - in Viareggio: Italian champion of kick boxing and third classified of full contact (B class);
19 June 1999 - in Rimini: Silver medal at fitness festival (B class);
28 May 2000 - in Asti: selection of the national Italian team for the European Championship (B class). Winner for KO at the second round;
2000 - in Prato: Italian Champion Federcombat (B class);
December 2000 - in Amsterdam: fighter of the Italian team against Holland during the night Italy-Holland (B class). Fight drew;
2001 - in Tortona: Italy-French, contributes to the success of the Italian team winning for KO at the 4th round (B class);
After this path, he passed to the professional class (A class) leaded by Master Walter Brambilla.
June 2003 - Italy-Croatia: wins for KO against the Serbian-Croatian Tom Balatrenic;
15 November 2003 - FIKB Italian Title of Kickboxing (A class). On the ring of Tortona wins after 7 rounds against Matteo Romagnoli;
After the Italian Title for hand injuries he was obliged to undergo tendon surgery and then to stop the activity for some months.
Resumed the trainings he started again to fight, above all international matches, till winning:
on 28/10/2007 the EBF European Title of Kickboxing K1 style (A class) in Vienna against the Tunisian Sadeghi
on 24/07/2008 the K1 Max di Lucca
in June 2009, WFC professional World Title (A class) of Kickboxing K1, against the French-Maghrebi Costantin Silver
July 2009 Kombat League / WKN professional World Title (A class) of Kickboxing K1, against the Dutch Van Hassen.