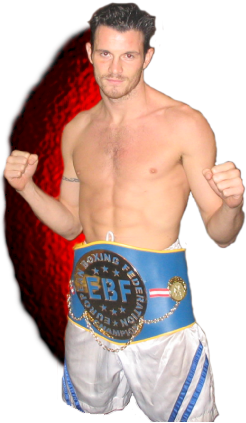 A thank to:
Gloria, who supported me psychologically during all the most important part of my career.
Master Cozzani who started myself to this sport and followed till today.
Master Corsari who forged me.
Russo, in the gym and in the corner of all the first matches.
Masters Pomè and Serse who taught me boxing.
Angelo who, with his suggestions, trainings and experience helped me to grow up.
Walter, not only friend and Master, but the person to who I owe all what I obtained in this sport.
Alessandro, Riccardo, Stefano, Pier, Francesco, Davide, Enzo, Luca, Luca (the small) and all the team fellows.
Master Genna and David who suggested, helped and trained me for the boxing part..
Gabriele, who helped me to be always 100% of my body shape and performance.
All the KBK, friends and wild group.
Paolo, Cristina, e Giorgio who, with their superstitious messages, brought me luck in the most important moments.
My Grandmother, and obviously my parents.

ALL THE PEOPLE WHO I DIDN'T INCLUDE IN THE LIST BUT HAVE SOMEHOW TAUGHT ME SOMETHING AND HELPED ME...